The Hilltop Prisoners Pond Forest Regeneration Project has made significant progress towards its first phase objectives.  A dedicated group of volunteers has cleared approximately one acre of invasive plant species, primarily bush honeysuckle.  (Read the full proposal below.) These woody-stemmed large shrubs/small trees were so thick one could not walk more than a few feet. Now, most of the aforementioned area is clear.  Removal of the honeysuckle has revealed to poor health of many of the ash trees on site.  These trees are diseased and have been ravaged by the emerald ash borer, an invasive beetle.  These diseased trees will, unfortunately, need to come down.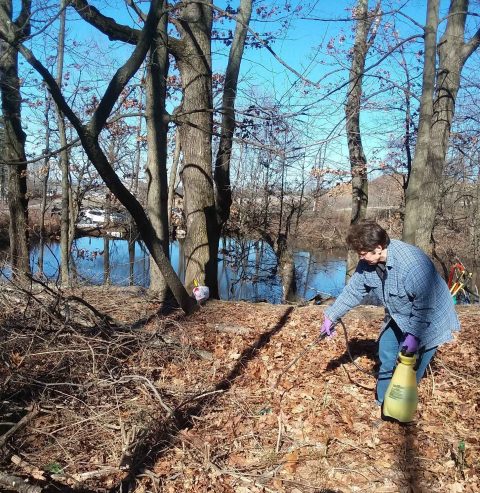 Volunteers are working to fell these trees which will then need to be cut up into movable sections in order to make way for prepping of tree plantings sites this fall.  If you are willing to help with moving cut brush, logs or if you have experience with a chainsaw – please contact Dave Freschi.  We look forward to continuing to progress this exciting project.  Thanks for your support.
Dave Freschi 
Project Manager
Restoring the Forest Canopy around Prisoner's Pond
The Hilltop Conservancy is kicking off a project to restore the forest canopy around Prisoner's Pond, located at the southern end of the Hilltop Reservation.
The pond is an attractive landscape feature which recently has been incorporated into the re-routed Lenape Trail.  It is also the Hilltop's only year-round water source, and supports small fish, turtles, frogs and waterfowl such as mallards and great blue heron.
However, the adjacent forest is in very bad shape – after the hillside was cleared decades ago, invasive species moved in (in particular bush honeysuckle) and have since prevented the forest from regenerating (see illustrative photos on page 2).  The infestation is so dense that it smothers any new tree seedlings that might germinate at ground level.  Only a few white ash trees have managed to reach above the bush honeysuckle layer, and unfortunately, due to emerald ash borer and ash yellows disease, this species is dying out.  Soon there will be no native canopy trees, and the forest around the pond will have no chance of natural recovery.
The good news is that there is a relatively easy and inexpensive way to "patch the roof" of the surrounding forest.  If the bush honeysuckle is cleared and the site is planted with large native tree saplings, these species will be able to gain a foothold and gradually shade out any remaining invasives as they mature.
Clearing bush honeysuckle and dead / dying trees will require volunteers using chainsaws and brute force to drag the cut logs and brush into piles.  Chipping the woody material is not required, but as much of it should be removed as possible.  Verona Township's Department of Public Works (DPW) will haul away the brush, logs and branches that volunteers are able to drag to the service road at the front / south edge of the site.
The Conservancy will work with volunteers to "paint" large honeysuckle stumps with herbicide immediately after cutting, and monitor the cleared area to address any invasives re-growth as needed.  In late fall, the Conservancy will also engage a local contractor to dig tree pits (to prepare the cleared site for planting).
The following spring, the Conservancy will lead teams of volunteers to plant native tree saplings.  Essex County has agreed to purchase the trees, per species mix defined by the Conservancy (as long as total costs per year do not exceed $5,000).  We estimate we can reasonably tackle one acre per year over five years (see page 3 for proposed site overview, and page 4 for high-level implementation plan and estimated expenses).
This 5-year project will restore ecological balance to the forest around Prisoner's Pond and greatly increase the area's ability to support wildlife.  It will also improve public access and the quality of park visitors' experience by converting what is now an impenetrable thicket of invasives into a more open and attractive forest understory.
Prisoner's Pond – Restoration Plan & Cost Estimates
Forest canopy on this ~4.5-acre site can be restored gradually over 5 years.
Partnering with Verona Township, Essex County and local volunteers will keep costs low.